Art Customized for Your Workplace!
A work space reflects the business's personality and culture. Art can enhance the brand as well as productivity.  We specialize in custom size, custom color and spot-on artwork to support your branding, enhance work spaces and improve productivity. Whether we are creating new artwork from your Mission Statement or Core Values for all to see on a daily basis, or simply updating existing artwork with new frames to update your look – we can and will solve your art decorating problems.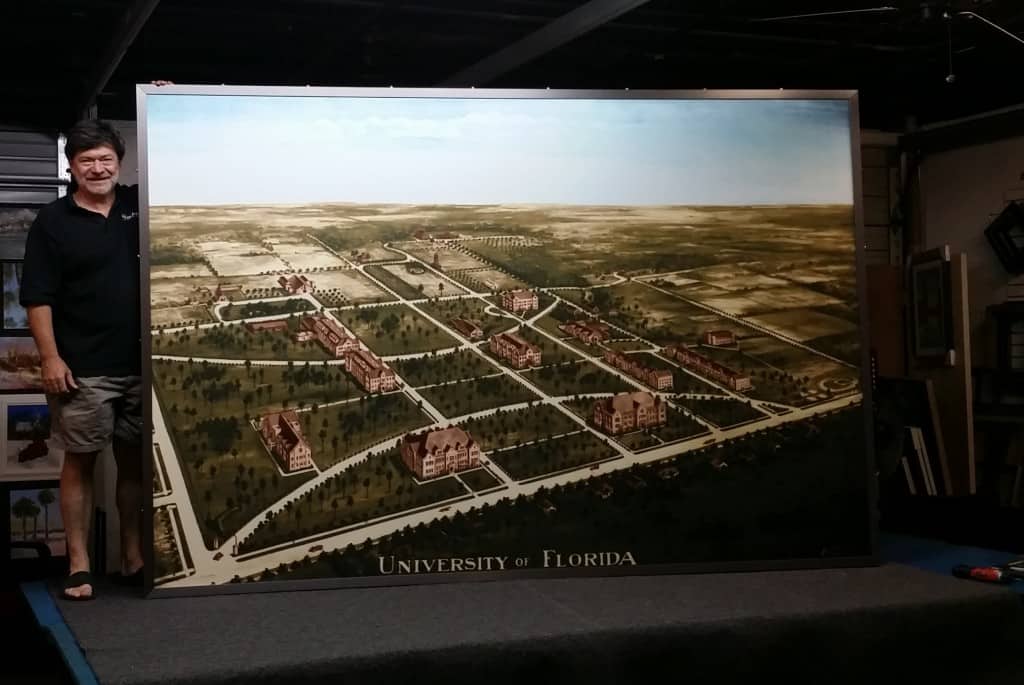 Local Art / Artists
Adding quality local art to your business truly shows that you value the community where you've chosen to make your presence. We can assist with sourcing pieces from local artists, restoring local historical images, etc. and producing them to be consistent with your theme and decor. This art piece was a small black and white drawing that we color enhanced and made ginormous, printed on canvas and then finished with a custom created frame.
In 2013 My Favorite Art Place brought quality framing services in house when we joined with Image Creations of Florida (ICF). ICF has been providing quality art and framing nationwide since the late 1980s. Having the framing facility under the same roof allows for quality products with a fast turnaround at an affordable price. Now My Favorite Art Place's clients can have the choice to frame their fine art prints, canvases, collages, etc. all at the same place.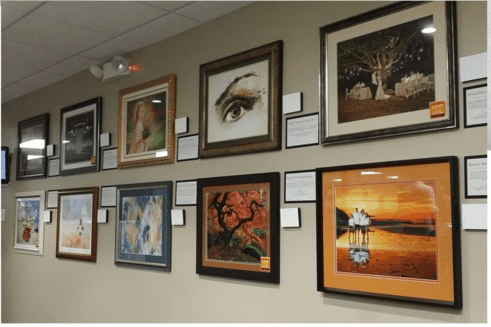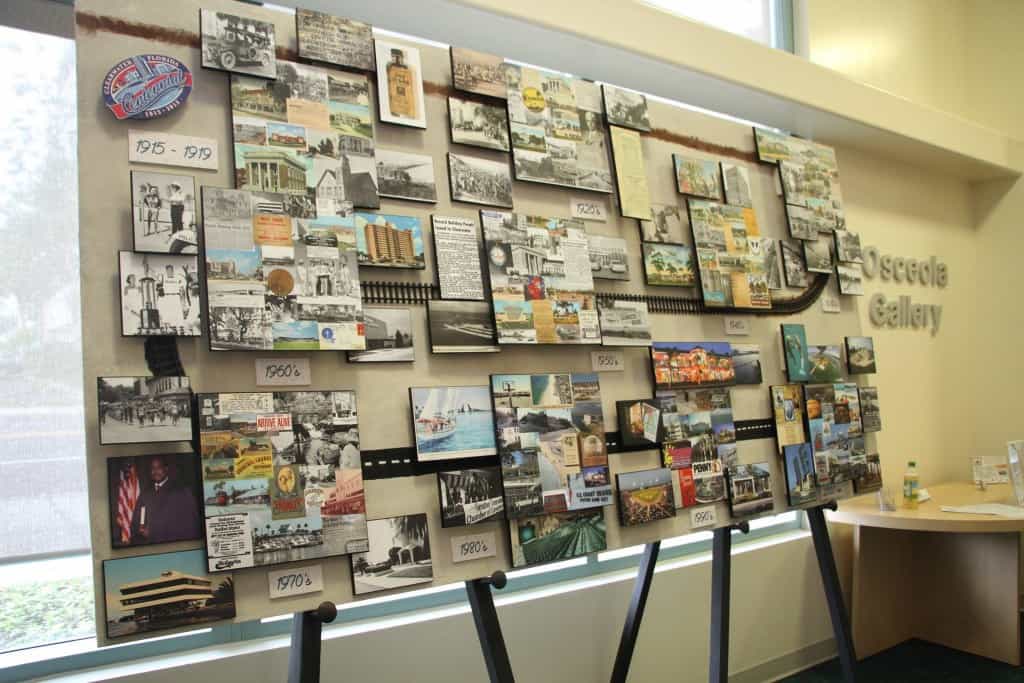 3D Collages
3D Collages are a fun way to show the history of your company, your product line, company activities, etc. We intersperse words, pictures and graphics in an interesting way that will not only engage the viewer but will help to communicate your marketing message. This is a piece we were retained to create for the City of Clearwater's Centennial.
2D Timelines
Do you want to decorate your walls with custom artwork based on your industry and marketing goals? We can help. Here is a timeline of the Milestones in Computer history – that resides in an IT company's lobby – 38″ tall x 72″ long. It showcases everything that was important to the start of this company's industry.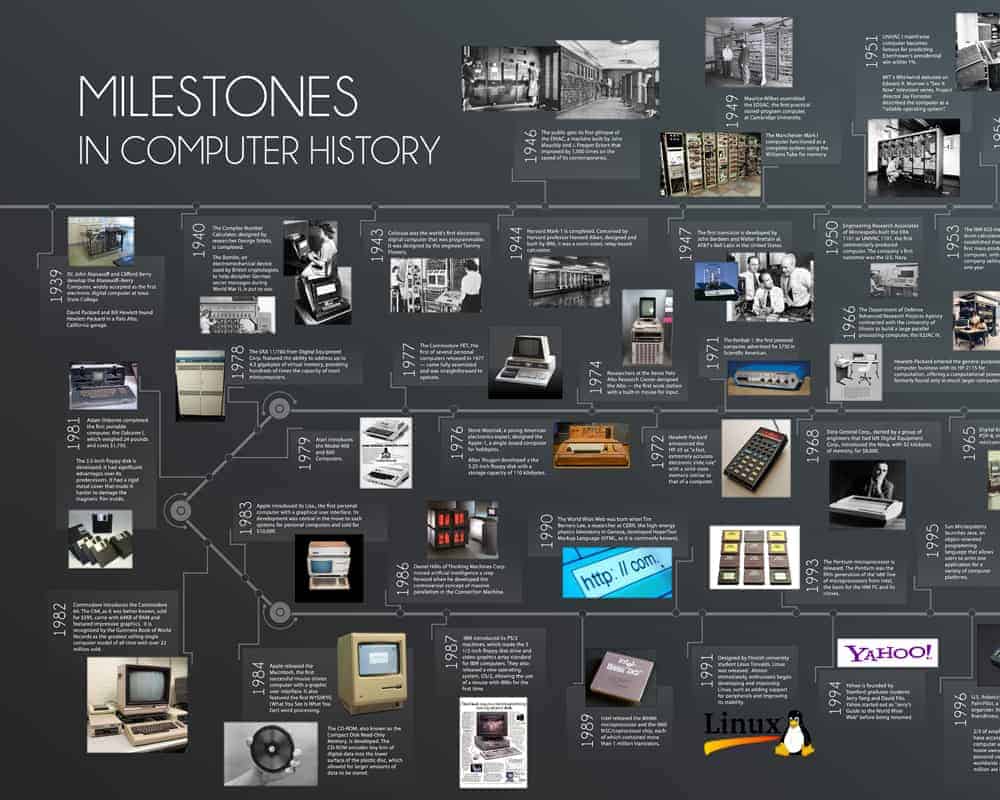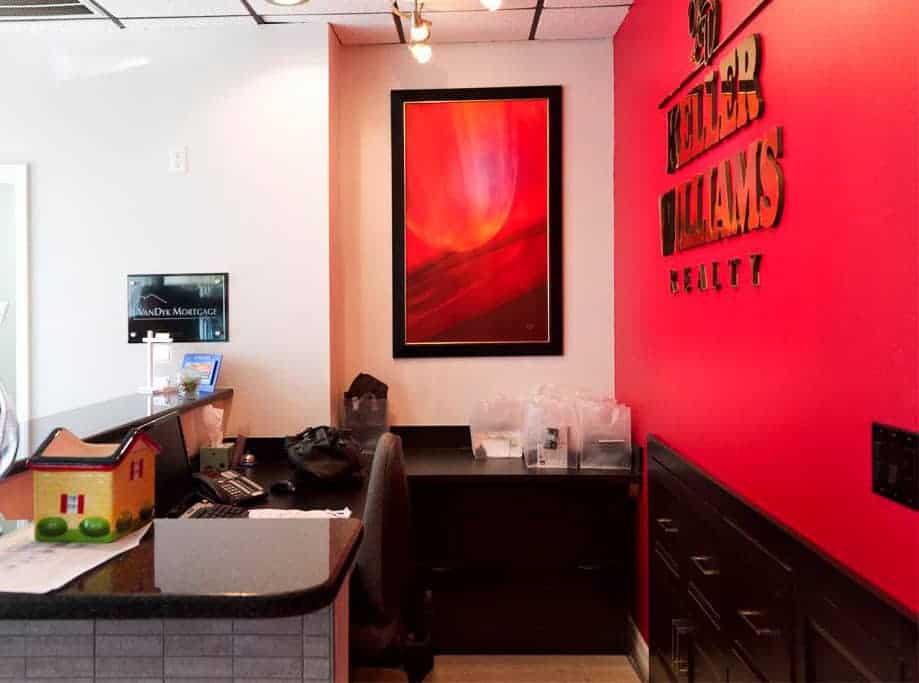 Statement Art
Lobbies, Reception Areas, Conference Rooms, etc often need a Statement Piece designed with the decor style, Mission / Vision of the company to communicate to clients, vendors and employees about the company. We have worked with hundreds of businesses designing the perfect art piece for their highly visible places. 
Multi Panel Artwork
Multi Panel Artwork is a great way to have a single image span a very large wall without overwhelming the space. Or, in this case, the wall was not flat but was 3 different levels. We broke up this image of the Bay Bridge so it worked with the space available.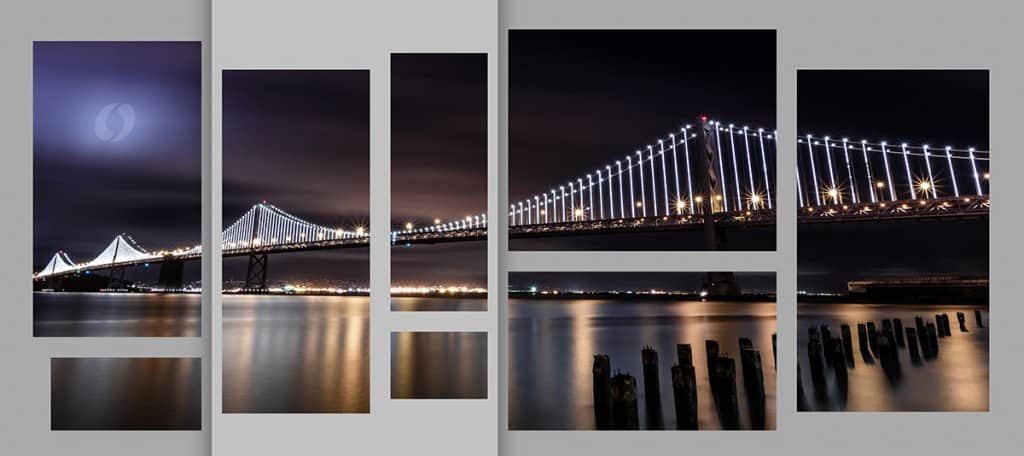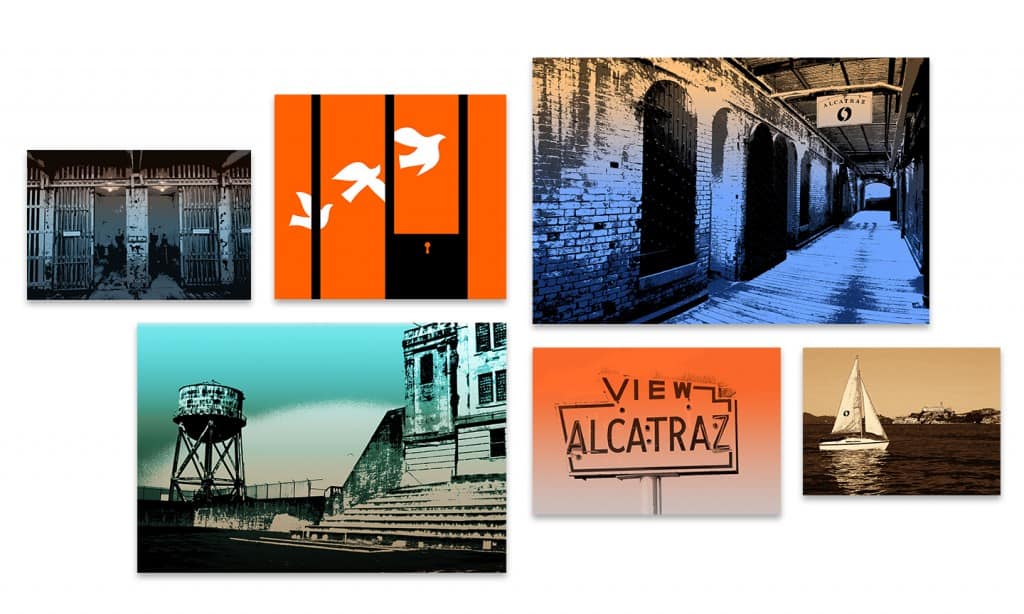 Cluster Artwork
Cluster Artwork is a great way to show multiple images in a collection. Be they funky colored canvas art of local hotspots or traditionally framed historical images that communicate your past, we can design and produce based on the intended mood of your space. This cluster was one of a series for conference rooms of a SF Tech company.
Custom Mirrors
Having your logo within the design of a strategically spaced mirror provides both form and function! This example shows custom metal work to enhance the framing of the logo on the mirror. We created 6 logo styled mirrors for this Mediterranean Restaurant.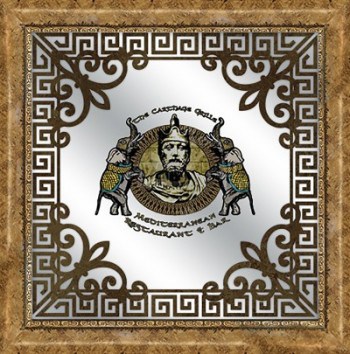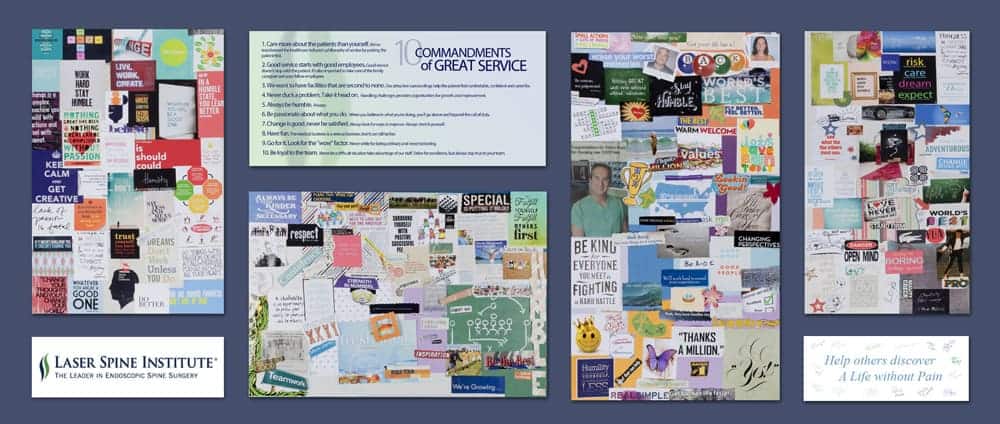 Whether it is traditional Motivational Images or custom created Vision Boards made by your team members, My Favorite Art Place is on board to create the perfect message to motivate and share your company's Corporate Culture. This is the result of a Vision Board exercise with Laser Spine's marketing department. These canvases reside in the corporate office and communicate the goals of the department.
Word Art
Word art is a way of taking your Mission / Vision statements and turning it into artwork for all to see and remember. This piece is part of a collection created for Republic National Distributing Company. Each of the 5 pieces represents one of their Core Values. The background of each piece speaks to the history of the company.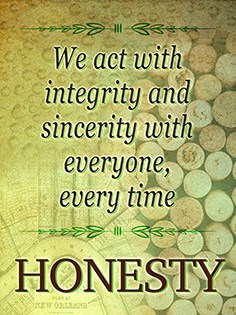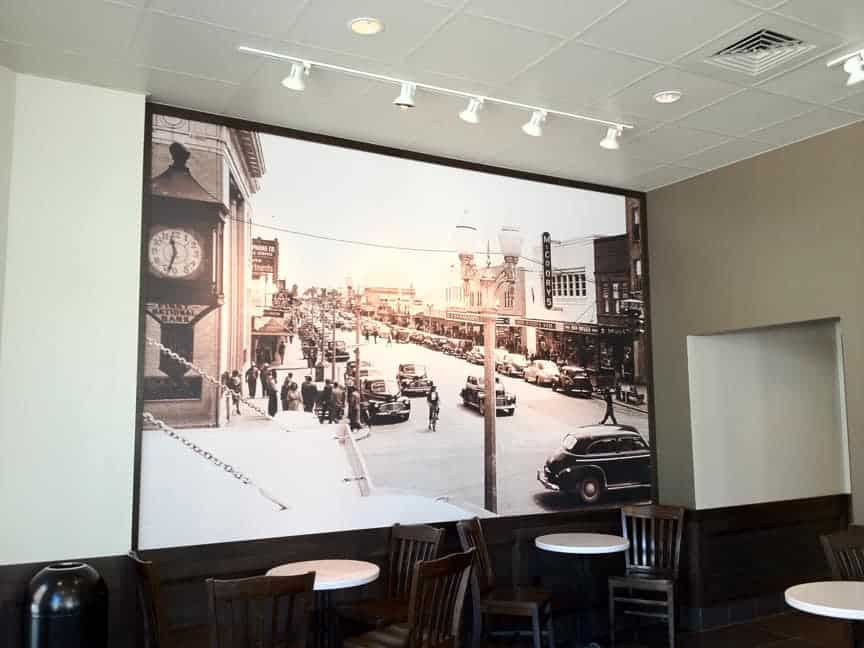 Murals
Murals are a great way to fill a large wall while staying true to your corporate theme. This 8ft x 12ft historical art piece resides in a local Starbucks. The tiffany-style clock in the historical mural is still working right outside the window!
Awards & Accolades
Display of Awards & Accolades is a great way to communicate what is important to the company. Here is a custom designed framed series for a local Northwestern Mutual company.  As each person reaches a new level in their business, their name and new designation gets added to the "The Wall of Fame. " Motivation?  Yes!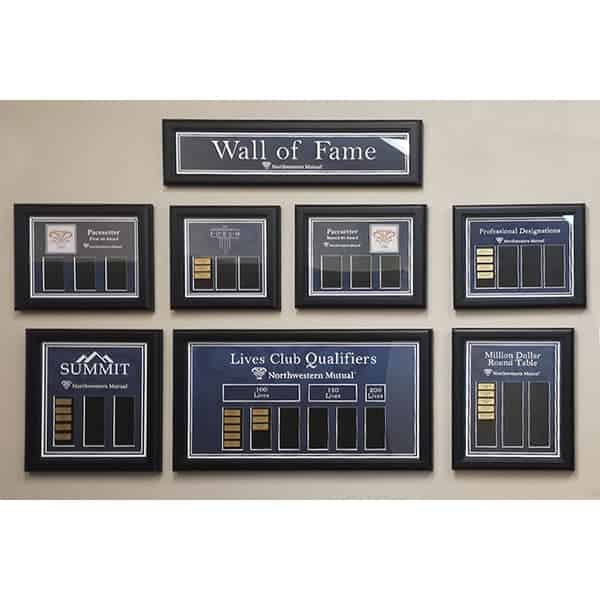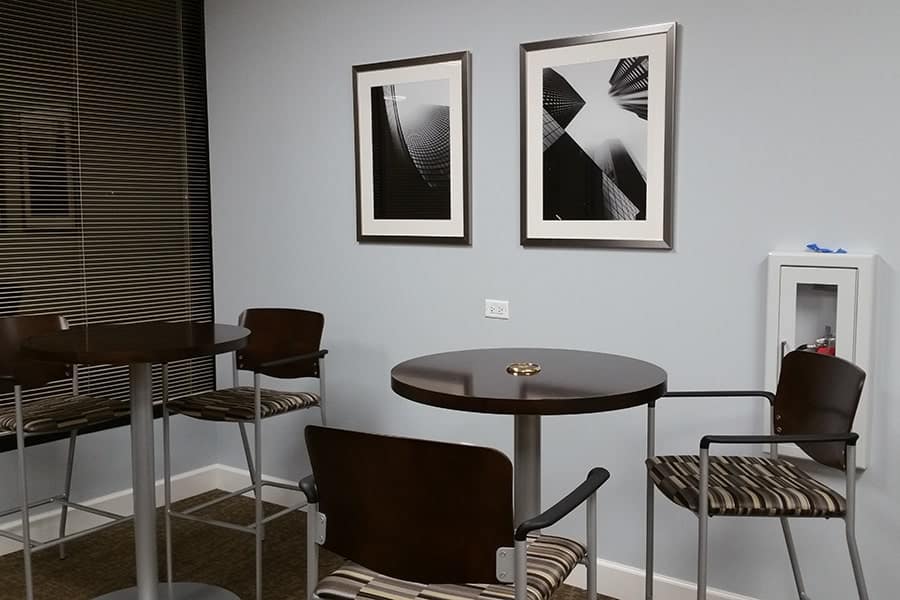 Art Prints
Sometimes what is needed in a hallway or a meeting area is simply a fine art print that aligns with the decor and feel for the corporate culture. If this is what is needed, then we can assist. We have literally thousands of art prints in inventory ready to be framed and delivered. 
Do We Ship?
Yes – weekly we ship pallets of artwork across the country. We even ship internationally.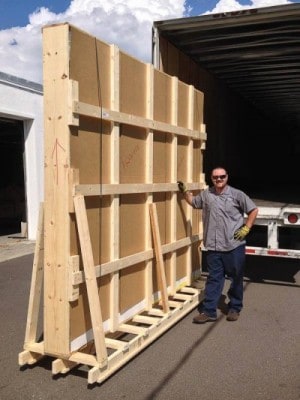 For more information, contact us at 727-726-7411 / 844 Art Place or send us an email.  We look forward to working with you.